Introduction
Castell Ventures Limited is registered as 'data controllers' under the Data Protection Act. We collect, hold and process a considerable amount of information, including personal information about you that allows us to provide our services effectively. If you would like to discuss Data Protection with us, you can contact us by:
Your information is important to us and we take our responsibilities seriously ensuring that any personal information we collect about you and use is done so proportionately, correctly and safely. The table below tells you a little more about what we do with your information we collect and the legal basis for processing it.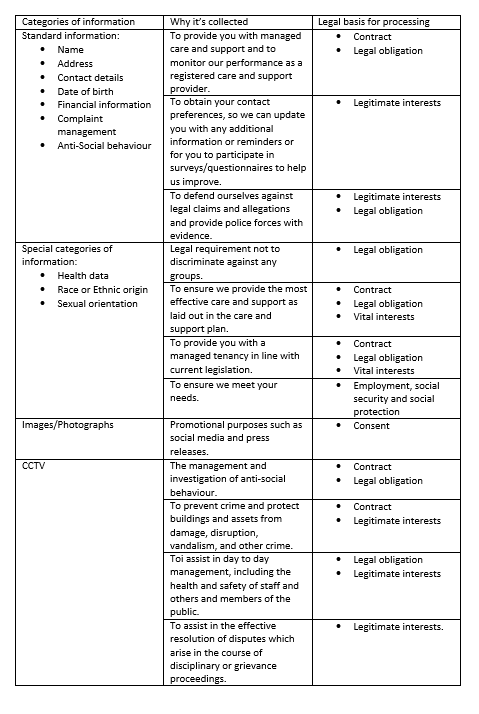 We may disclose personal data to third parties, this may include our contractors, service delivery partners and statutory bodies, but only where it is necessary, either to comply with a legal obligation, or where permitted under the Data Protection Act.
We will strive to ensure that any personal data in our care will be kept safe and where your information is disclosed to a third party we will seek to ensure that the third party has sufficient systems and procedures in place to prevent the loss of personal data. At no time will your information be passed to organisations external to Castell Ventures Limited for marketing or sales purposes.
Your rights under current data protection legislation
You have the right to access the personal information that we process about you. If you believe the personal information we hold on you is inaccurate or incomplete, you have the right to have it corrected or completed. Where we are using your information based solely on your consent, you also have the right to withdraw this consent at any time by contacting us. You also have the right, in certain circumstances, to block the processing of your data; object to some types of processing; have your data deleted or in some cases transferred to another organisation of your choice. More information about all of these rights can be found by visiting www.ico.org.uk
If you have a query or wish to make a complaint about the way the Castell Ventures Limited process your personal data please contact us using the details at the top of this page or if you wish you can complain directly to the Information Commissioner's Office by visiting www.ico.org.uk/concerns or by calling 0303 123 1113.